Hours
Monday

9:00AM - 7:00PM

Tuesday

9:00AM - 7:00PM

Wednesday

9:00AM - 7:00PM

Thursday

9:00AM - 7:00PM

Friday

9:00AM - 6:00PM

Saturday

9:00AM - 5:00PM

Sunday

Closed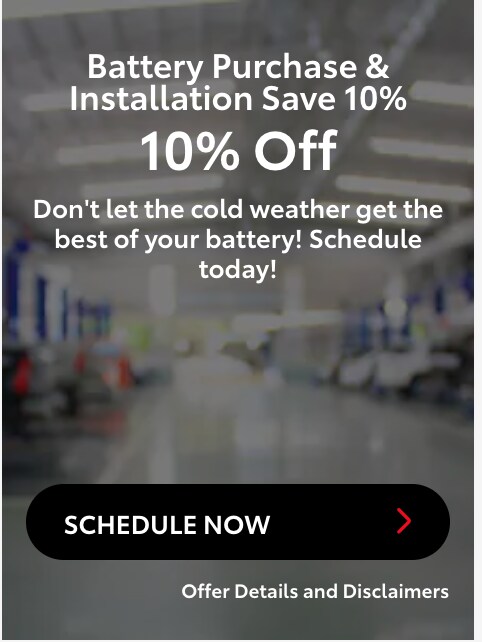 It's happened to all of us: you hit the ignition and nothing. Silence. A dead battery. And it always seems to happen at the most inconvenient time. There are a number of things that can impact the life of your battery, in particular, the climate you live in. Take a look at the chart in the video above, it illustrates how much the life expectancy of your battery can vary; from two to three years, 24-26 years.
Depending on where you live, cold weather is especially hard on car batteries. Research shows that at 32 degrees Fahrenheit a battery loses about thirty-five percent of its starting ability. At zero degrees Fahrenheit, that loss increases to about sixty percent, and at the same time starting an engine can take up to twice as much power as needed under normal conditions so it's no surprise that a weak battery in cold weather can lead to a no start situation.
Many battery problems started long before temperatures drop. More than cold shortens battery life, the battery contains liquid and heat, causing it to evaporate, and these low fluid levels can lead to corrosion and other damage to the internal structure of the battery.
Here are some warning signs that your battery is about to fail: if your engine turns over slowly or what is called a "sluggish crank," or when you experience a slight pause or hesitation before the engine begins to turn over. If you've recently had to have a jump start are you notice any signs of corrosion around the battery terminals these are all signs it's time to have your battery inspected. If your battery is three years or older, it's a good idea to get it tested regularly.
Naturally, our Toyota factory trained and certified technicians have the right tools, equipment and expertise to do a comprehensive electronic battery diagnostic check. If you do need a replacement, we recommend a Genuine Toyota True Start Battery.
True Start batteries are manufactured to Toyota's exacting standards for quality and performance, and they meet or exceed original equipment specifications. Best of all, they come with an 84-month warranty including 24-month free replacement and 24-months of roadside assistance reimbursement. Talk about peace of mind!
So if you're having starting problems, be sure to contact one of our knowledgeable service representatives to schedule an electronic battery diagnostic test for your vehicle!