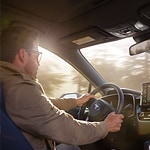 Our region trusts the Corolla from Toyota to for gas savings, and this year's edition continues that relationship. You will find the latest Corolla in our Yorkville inventory at Steet Toyota of Yorkville. Let's talk about the fuel efficiency this beloved vehicle will add to your life.
The Corolla extends your gas budget in every available trim, and its most efficient is the SE. This edition gives you a selection of features that averages 40 MPG during highway driving. Engineers at Toyota use a unique transmission in the SE. It's called a Dynamic-Shift Continuously Variable Transmission. Also called a CVT, this type of transmission has been around for a century, but it has become more popular in the last 20 years. In this component, Toyota adds a fixed first gear, giving the Corolla SE dependable initial acceleration.
Importantly, you can attain worthwhile fuel efficiency in any of today's Corollas. Simply select the ECO mode, which optimizes the vehicle's shift points for fuel savings.