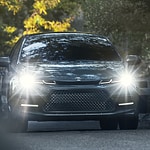 For those who love a car with sporty styling, high fuel economy, superb handling, and a refined interior, a 2021 Toyota Corolla should be your preferred choice. The vehicle also comes with the latest safety features that guarantee passengers of safe travel.
The 2021 Toyota Corolla has eight airbags. They are meant to protect the driver against a collision or a rollover from every side of the car. The Corolla seatbelts come with three points and an Emergency Locking Retractor. The car front seats also come with pretensioners that have force limiters.
Child Safety

It is crucial for those who love driving with children to consider a car that offers adequate safety. A 2021 Corolla has a LATCH system fitted to prevent children from recklessly opening the doors. With the child locks, you will not have to worry about children slipping out of the door when driving on the highway. The car also comes with other advanced technology features that help safeguard the lives of the people in the car.