Why Buy a Certified Pre-Owned Toyota in Yorkville, NY?
If the time has come to start looking for a new ride, you may be weighing your options and wondering if a new Toyota is the way to go or if you should explore the pre-owned vehicle route.  You may find yourself being drawn in by the boosts of confidence supplied by brand new vehicles, but pulled away by the enticingly affordable price tags attached to used models.  So, how do you find balance?
The answer is simple: buy a Certified Pre-Owned Toyota.
What is a CPO Toyota?
Certified Pre-Owned vehicles are the cream of the pre-owned crop, boasting like-new quality and a host of manufacturer-backed warranties to inspire confidence without dealing a death blow to your bank account.  When you buy a CPO Toyota, you get to enjoy the best of both worlds and get more car for your money.
What are some of the benefits of buying a CPO Toyota?
In order to qualify as a CPO Toyota model, a vehicle cannot have more than 85,000 miles on the odometer.  Its age must fall somewhere between the current model year and six model years back.  On top of that, it must pass a careful 160-point inspection by factory-trained technicians so you can be confident that it is ready to hit the road.
Buying a CPO Toyota allows you to take advantage of several warranties and benefits such as a 12-month/12,000-mile Comprehensive Warranty, a seven-year/100,000-mile Limited Powertrain Warranty, and one year of Roadside Assistance to help you gain peace of mind.  Every CPO Toyota also comes with a free CARFAX Vehicle History Report.  If you have questions about what a vehicle has been through over the course of its life, its past is a simple mouse-click away!
How can I try out a CPO Toyota?
We carry an inventory of CPO Toyota vehicles right here at our Toyota dealership in Yorkville, NY.  Stop by today to explore our inventory and learn more about the CPO Toyota program!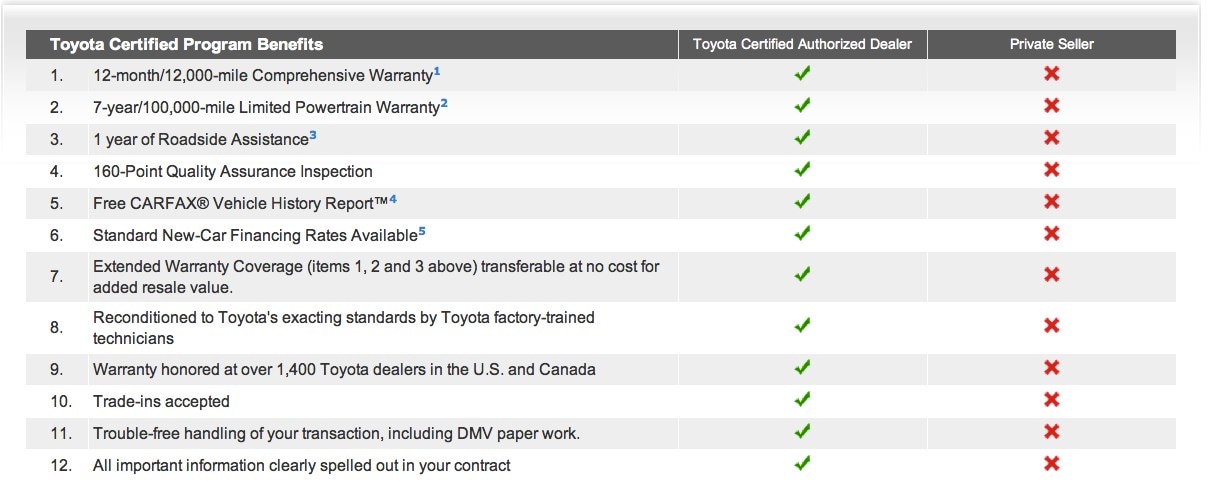 Legal Disclaimers: [1] Whichever comes first from date of Toyota Certified Used Vehicle purchase. The Limited Comprehensive Warranty covers any repair or replacement of components which fail under normal use due to defect in materials or workmanship. (Program not available in Hawaii.) [2] Whichever comes first from original date of first use when sold as new. See your Toyota Certified Used Vehicles dealer for warranty details. Program not available in Hawaii. For AL, FL, GA, NC & SC, warranty coverage differs in the following ways: 7-year or 100,000-mile Toyota Certified Limited Powertrain Warranty coverage begins on January 1st of the vehicle's model year and zero (0) odometer miles and expires at the earlier of seven years or 100,000 odometer miles. [3] From date of Toyota Certified Used Vehicle purchase. Covers most services, including flat tires, lockout service, jump starts, fuel delivery up to 3 gallons and towing for mechanical breakdown or collision recovery to the nearest Toyota dealership. Services provided exclude any parts required. Coverage not available in Mexico. See Certified Warranty Supplement for warranty details.[4] Beginning December 1, 2005 CARFAX® Vehicle History Reports? are a required part of every Toyota Certified Used Vehicle. See your local dealer for details.[5] Rates mentioned are for standard new car rates, and do not include new car specials or subvented rates. Not all buyers will qualify. Financing available through Toyota Financial Services for qualified buyers only.