Service Hours
Monday

7:00AM - 5:00PM

Tuesday

7:00AM - 5:00PM

Wednesday

7:00AM - 5:00PM

Thursday

7:00AM - 5:00PM

Friday

7:00AM - 5:00PM

Saturday

Closed

Sunday

Closed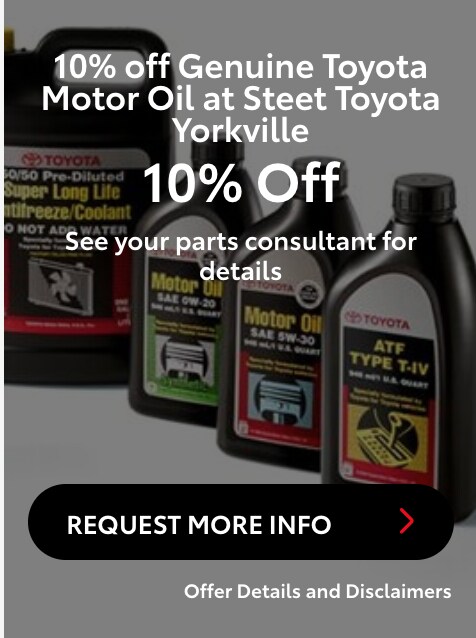 Nothing is more essential to your Toyota engine than Motor Oil. Genuine Toyota Motor Oil helps ensure your vehicle's engine delivers peak performance, maximum fuel economy, and outstanding reliability. Best of all, for the first two years or 25,000 miles that you own your new Toyota, oil and filter changes are included with your Toyotacare! 
Performing your Toyota oil change at factory recommended maintenance intervals is a great way to keep your Toyota running great and maintain its value.  At Steet Toyota of Yorkville, we use Genuine Toyota Motor Oil formulated to help protect against corrosion, prevent foaming and maintain proper application of oil on cylinder walls.
Own a Scion? Your Scion will receive proper care by trained technicians using Genuine Toyota Parts
Motor oil reduces friction between the moving parts of your engine to help everything run smoothly, while oil also helps cool your engine so that it operates dependably mile after mile. Over time, motor oil breaks down and loses its ability to provide proper lubrication and that can cause engine parts to heat up and may lead to damage. That's why it's important to change the engine oil and filter on a regularly scheduled basis. 
Check with your Toyota service advisor for the proper schedule for your specific vehicle. Your factory trained and Certified Toyota technicians know exactly which oil and filter is recommended for you. They use only Genuine Toyota motor oil specifically formulated to the specifications of your Toyota engine. 
Genuine Toyota oil filters are engineered to remove dirt and other impurities from the oil before they can cause excessive wear proper maintenance. Genuine Toyota oil and filters will go a long way in helping to protect your investment and will help ensure your Toyota continues to perform at its best. 
So when it's time for an oil change be sure to contact one of our knowledgeable service representatives or go online to schedule your next service visit!